Lili Waste are proud to have recently sponsored 2023's Tonbridge Calling Live in Kent with our professional commercial waste services. We are delighted to have supported the event organisers by drawing on our extensive experience in event waste management to make this local event a resounding success.
Tonbridge Calling Live is an annual community festival that brings together food, live music and free workshops to create a fun and memorable experience for local people in Tonbridge. Lili Waste Services sponsored the most recent event held in Kent on Saturday the 1st June 2023 by providing the organisers with our commercial waste services. This support shows our commitment to supporting local community events with our expertise in commercial waste collections.
Our team of dedicated staff delivered several of our branded Lili Waste bins to the event held in Tonbridge Park, ensuring that the site was kept clean and that the bins were delivered . Before the event we worked closely with the event organisers to ascertain their specific recycling requirements. All of the waste we recycle is in line with our goal to achieve zero landfill across our bin delivery and waste collection services.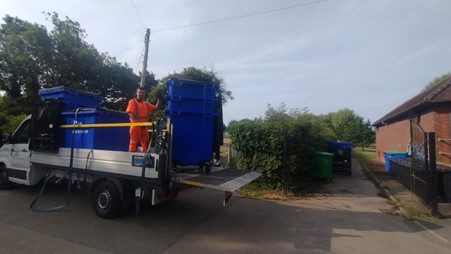 Lili Waste are commercial waste experts with a strong record in providing bespoke solutions for commercial events. We work closely with each client to establish their waste needs so that their event has the correct waste disposal and recycling requirements. Our recycling centre partnerships also ensure that food waste, glass, cardboard, and other waste types are all correctly recycled. The specialised bins and vehicles we operate ensure that each event has its waste collection serviced in a professional manner in line with current legislation.
The expert team at Lili Waste has more than 100 years of waste management experience on aggregate, while our commercial waste expertise is utilised across the UK in London, Kent, Hampshire, Yorkshire and South Wales. Our specialist festival waste management service was launched five years ago and since then we have gone from strength to strength in supporting a variety of local festivals and events including Tonbridge Calling Live.
If you are looking for professional and economical services in commercial waste management, or are looking to organise a local event, our team of experienced staff are here to help.